Have been planning to buy a juicer for your kitchen but haven't yet? The Black and Decker citrus juicer is brought to you by House Wife's Paradise to make your choice easy. It is everything a kitchen would want. This juicer with 2 way spin is the best deal available; grab it before someone else does. This is a juicer with warranty. So now you do not have to worry about your juicer for 2 years.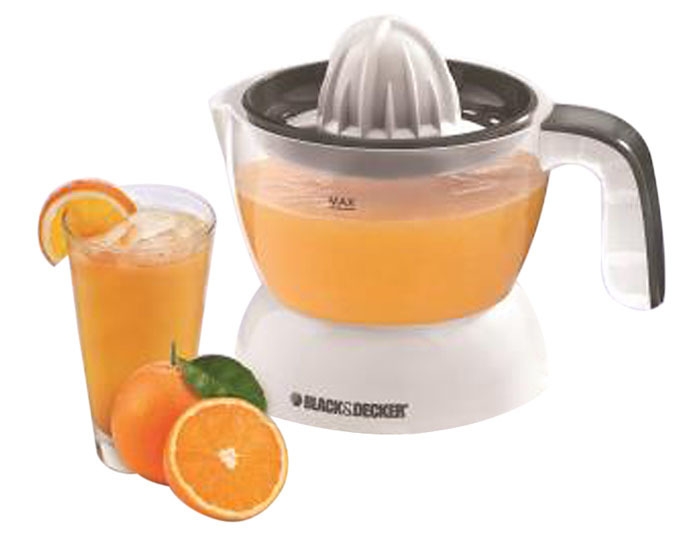 Separate Pulp Container
The Black and Decker citrus juicer has two collectors, one for pulp and the other for the refreshing juice. The pulp collector has a capacity of 0.5 L while the juice collector can collect up to 0.7 litre of juice. Now enjoy the process of making juice followed by the relishing experience of tasting the juice squeezed out at home.
Other Important Features
The Black and Decker citrus juicer is a durable and easy-to-clean juicer. This product is available in white colour. It uses stainless steel which makes the product more durable and maintains hygiene. The Black and Decker citrus juicer consumes 450 watts power which is ideal for an average household. It easily works on 220-240 volts. In order to make it more convenient for you, 2 speed options are provided. For the softer fruits and vegetables lesser speed could work and you can switch to the faster speed for harder fruits.
Key Features
Powerful Motor


Power : 30 W


Voltage : 220-240 V


Juice bowl : 0.5 L


Colour : Translucent


Two way spin : Yes


SUPC: SDL611432565
What's in the box
citrus juicer
Specifications
SKU

: BL703HL1K6ML1NAFAMZ

Main Material

: Stainless-steel

Size (L x W x H cm)

: 50.7 x 42.8 x 34.0 cm

Weight (kg)

: 2.88
This product has no ratings yet.
Black & Decker Black & Decker Citrus Juicer With Hand Press - Silver & Black