Neem oil is exceptionally rich and contains a heavy odor. It will need to be diluted accordingly before adding it to your products. We recommend experimenting in small batches with this oil, so that the odor does not adversely alter your final product. Below are several usages for Neem Oil: Athletes foot: Add a few drops to a foot soak, foot powder, or anti-fungal salve recipe.For Dandruff and head lice: Massage with Olive or other carrier oil into the hair and scalp. Leave in for one hour, and then shampoo out.
In salves-- add a few drops to your healing salve.In soaps-- use with your base oils.Garden pesticide-- Mix with Castille Soap and water, spray onto infested plants as needed. The spray will suffocate soft bodied insects, and will repel other insects.Acne-- mix a small amount into your facial clay and apply to problem spots.Bath-- mix a few drops into the bathwater.Bug repellent: Use in lotion to deter bugs and mosquitoes.Hand soap: Add to liquid hand soap for antibacterial properties.
Key Features
The powerful antiviral and antibacterial properties of Neem oil helps one treat hair related problems like dandruff and itchy scalp.
Benefits also include its use in household items like mosquito repellents, disinfectants and personal hygiene products.
Great for organic and non-toxic Plant Spray - For External Use Only.
Specifications
SKU

: FE355HB1H4B8ZNAFAMZ

Skin Type

: All Skin Types

Main Material

: Neem

Weight (kg)

: 0.18
This product has no ratings yet.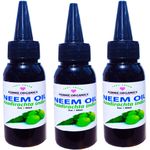 Femme Organics Neem Oil - 3 Pack