Generic Black Zoo Activated Teeth Whitening Charcoal Powder, Organic Charcoal Bamboo Natural Teeth Whitener
Pitch-black powder to whiten your teeth? Yes! Activated charcoal is the secret ingredient. It's an oxidized version of charcoal and can be used to effectively whiten teeth. It removes external stains from your teeth without the toxic chemical ingredients used in commercial tooth whitening. This tooth whitening promotes good oral health and can change the pH in the mouth, helping to reduce things that cause cavities, gum disease and bad breath. Order for this online from Jumia Kenya and have it delivered to you.
Features:
This teeth whitening powder is gentle without water or emulsifier composition of efficient concentration for full release of effective ingredients to achieve better cleaning effect.
To reduce the formation of tooth decay and dental calculus for fresh breath.
To brighten your teeth. It is fine, gentle and does not hurt the enamel.
Fine powder texture for more effective cleaning effect and confident smile.
The periodontal problems rarely occurs and less toothwash times with the long-term use of the product.

Tips:
You will get a better effect using the bamboo charcoal powder
The formation of small particles is a normal phenomenon and just entwist it for restoration of the powder state.
Not significant effect for brightening the congenital yellow teeth.
Whiten your teeth completely and naturally. Especially for people who with black teeth and yellow teeth caused by smoking, tea drinking, coffee and wine, Remove tartar and peculiar smell, Leaving your mouth clean and fresh.
Keep your gingival more healthy. Long-term use of this product shall help to keep periodontal problems away.
Directions:
Wet your toothbrush well.
Place toothbrush on top of a napkin, piece of toilet paper, or paper towel.
Gently twist open your activated charcoal capsule.
Carefully empty activated charcoal powder onto toothbrush
Start brushing! It will be a little bit "powdery" at the beginning, but your saliva will soon take over and spread the powder everywhere. You could also add a small amount of toothpaste to your toothbrush and dip into the charcoal powder if you prefer.
Gently brush for 3 to 5 minutes. Spit periodically into your cup, rather than sink. This will make clean up easier!
Rinse your mouth well with water. Be sure to brush your tongue too with water as it will be black
Dump your spit cup into the toilet and flush.
Clean any excess powder residue on your sink with a baby wipe.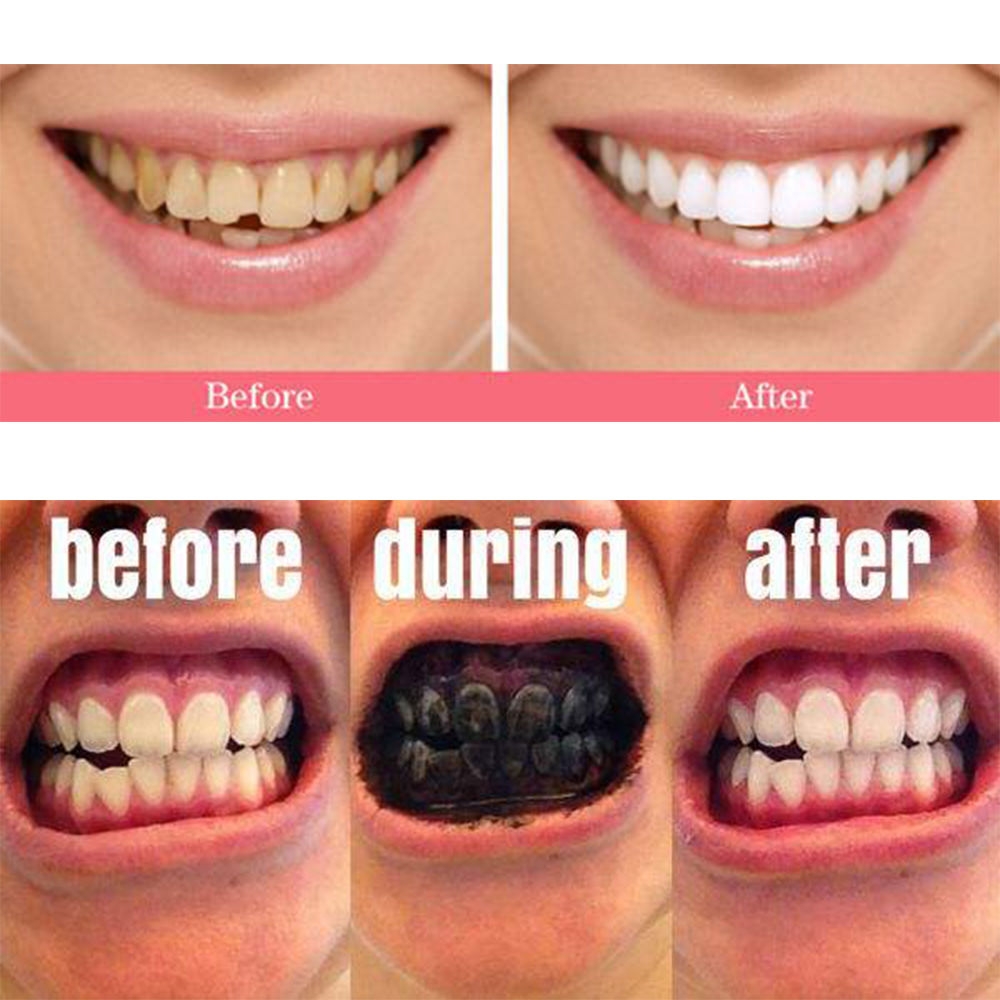 Key Features
100% natural and organic

Type: Teeth Whitening Powder

Color: Black

NET WT: 15g

Ingredient: Activated Charcoal

Function: Cleaning Packing, Teeth Whitening

Safely cleans and polishes the teeth

Improves gum health

Designed to remove coffee, tea, wine, and tobacco stains
Safe for everyday use

Refined charcoal powder
No harmful chemicals, artificial colors, and flavors
No fluoride, hydrogen peroxide, surfactant, or GMO

What's in the box
1 PC 15g bamboo charcoal powder
Specifications
SKU

: 24058HB1JHJXHNAFAMZ

Skin Type

: All Skin Types

Main Material

: Charcoal

Weight (kg)

: 0.015
Product Reviews (0)
This product has no reviews yet.
Generic Black Zoo Activated Teeth Whitening Charcoal Powder, Organic Charcoal Bamboo Natural Teeth Whitener