| | |
| --- | --- |
| BRAND | VA VA VOOM |
| COLOR | black(rosegold&black) |
| Applicable people | MAN |
| Special function | Decoration,calendar |
| Style | Leisure |
| Display Type | Pointer + digit |
| Waterproof | 30M |
| Brand origin | Guangdong,China(Mainland) |
| Type | high quality and fashion. |
| Gender | men's watch |
| Movement | calendar quartz movement |
| Belt | microfiber strap |
| Waterproof | 30 m waterproof level |
| Clasp way | free buckle |
| Strap width | 22mm  |
| Dail Diameter | 46mm |
| Dail Thickness | 12mm |
| Net weight | 67g |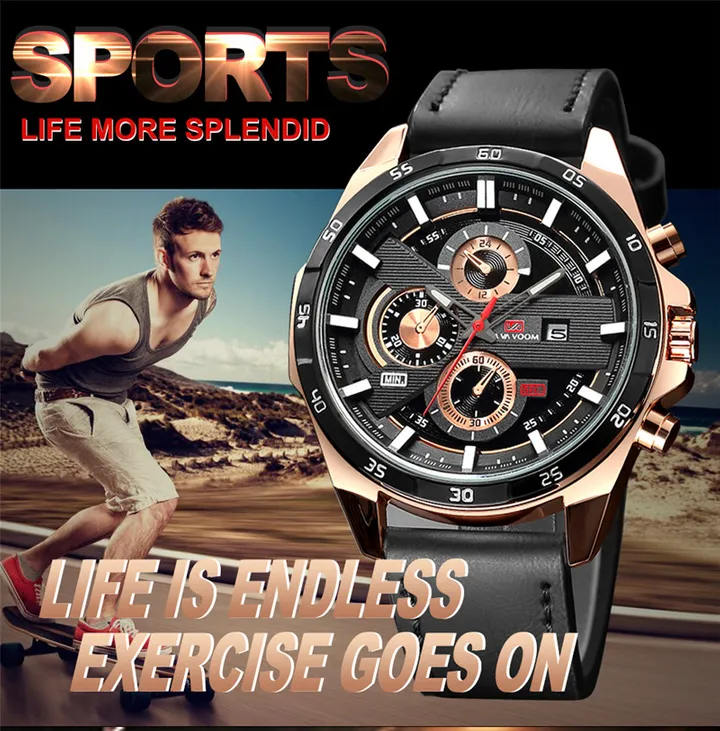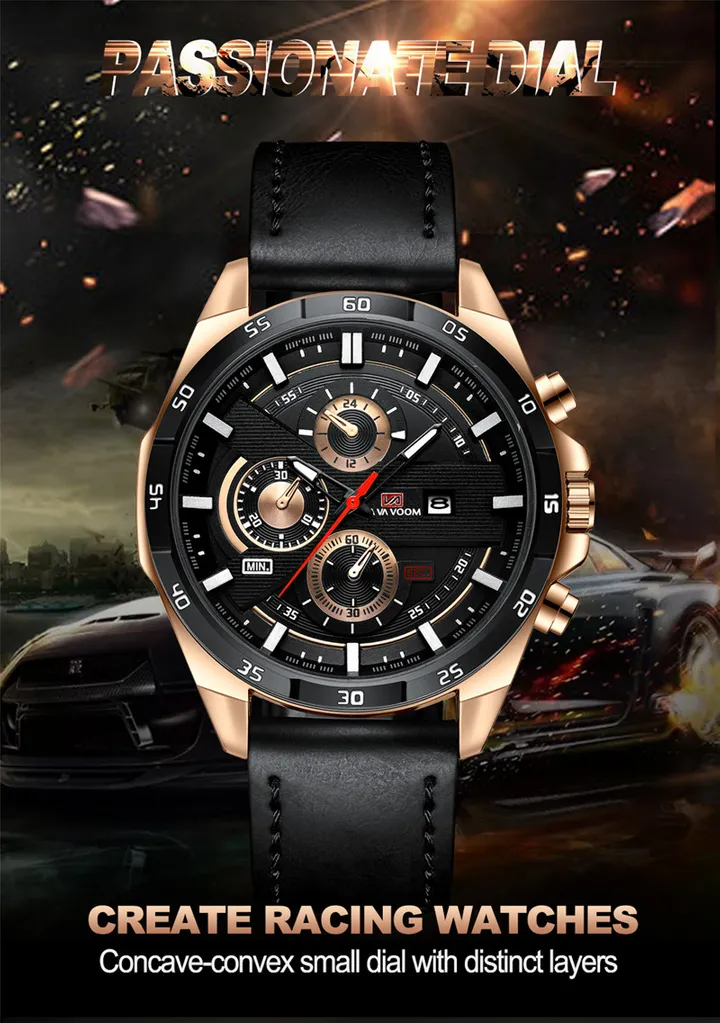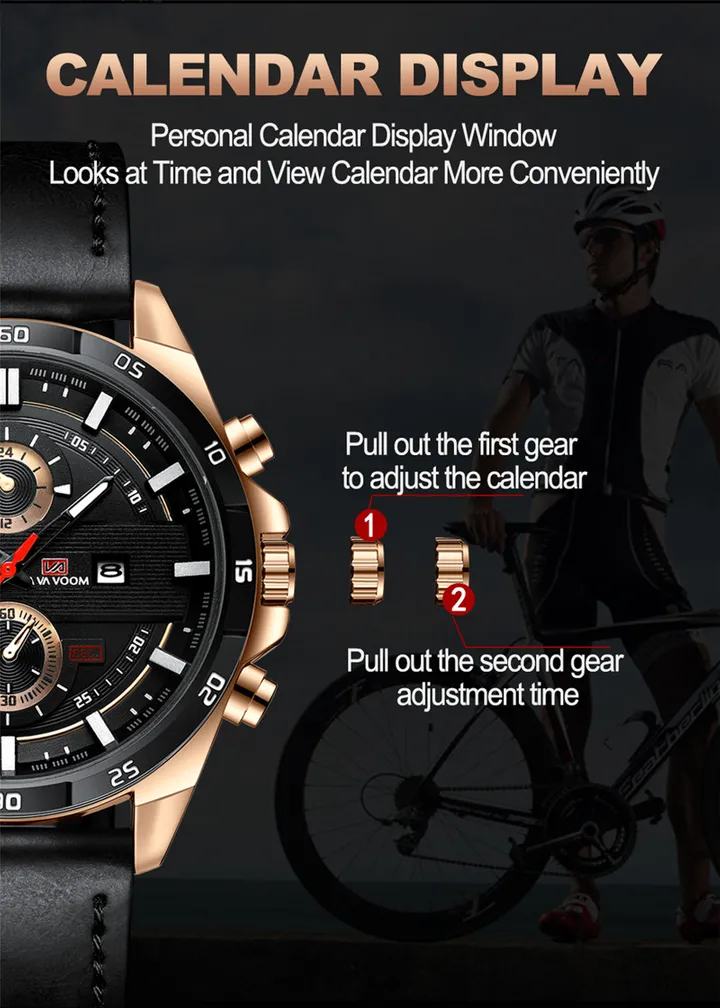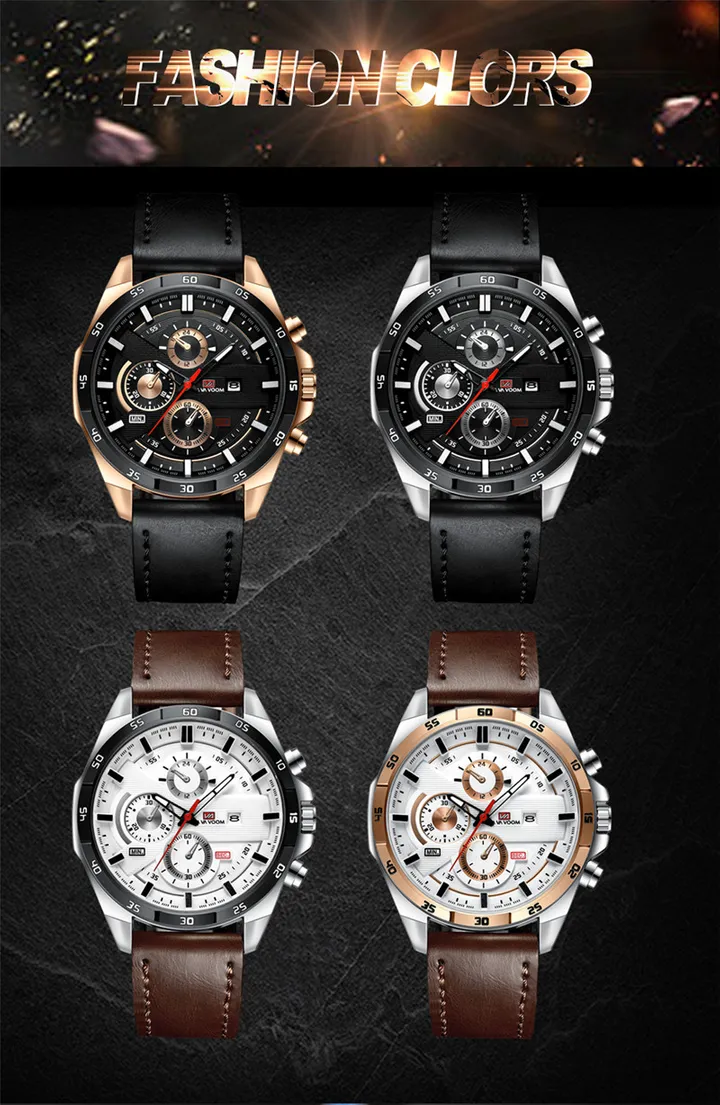 Strap watch, please note:
Avoid contact with moisture and moisture to prevent discoloration and deformation.
Avoid long-term exposure to sunlight to prevent fading.
As the cortex is easy to penetrate, avoid contact with greasy substances or cosmetics.
Daily watch maintenance and watch knowledge:
1. Please do not bring the watch and magnetic objects close to each other;
2. In case of water ingress (with air), it should be sent to the maintenance point for cleaning immediately to avoid corrosion of the movement;
3. If there are protective sheets or labels attached to the back of the watch, please remove them before use, otherwise sweat will penetrate into the backing paper, causing the back of the watch to rust;
4. Do not expose the watch to various solvents and chemicals, otherwise the watch case and strap will be discolored and corroded due to erosion;
5. The watch (only for quartz watches) can operate stably and accurately in the range of normal temperature 5 ° C ~ 35 ° C. If the temperature exceeds 50 ° C, it will cause battery leakage or shorten the electricity. Pool life. Please do not leave the watch in a low temperature -10 ° C environment for a long time, because the cold air will cause the time to slow down or go faster. When the watch returns to normal temperature, the operation will return normal;
6. Watches can be divided into diving watches, waterproof watches and non-waterproof watches according to their waterproof performance. Watch waterproofing depends on the waterproof rubber ring on the watch glass, back cover, handle, etc.
Key Features
Type: high quality and fashion.
Gender: men's watch
Movement: calendar quartz movement
Belt: microfiber strap
Waterproof: 30 m waterproof level
Specifications
SKU

: VA075AA0L6870NAFAMZ

Apparel Type [P]

: Fashion Tops

Care Label

: N/A<br />

Main Material

: Leather+Quartz

Weight (kg)

: 0.067
This product has no ratings yet.
Va Va Voom Men's Watch Casual Display Date Leather Wristwatch