Zeblaze Zeblaze VIBE 3 Smartwatch Durability Waterproof Smart Watch Wearable Long Standby Battery Heart Rate Monitor
See Details
Key Features
Explore with your "heart"
Test a runner with the data
Develop your full potential,discover a better you
Hard shell,stand up to the toughest environments
The 3D interface
Delivery

Delivery Timelines and Cities

| | | | |
| --- | --- | --- | --- |
| City | | Standard Shipping | |
| Zone 1 (e.g. Nairobi) | 1 | 2 - 3 | 27 - 28 |
| Zone 2 & 3 (e.g. Mombasa) | 2 - 4 | 3 - 6 | 28 - 31 |
| Zone 5,6 & 7 (e.g. Machakos) | 4 - 7 | 6 - 9 | 31 - 34 |

Jumia Express is available only for items with the logo. Click here for more information

Delivery times are business days only, and do not include Sunday.

Click here for more info.

Click here for our full Delivery Timelines

& Click here for our Shipping fees details

Shipped from abroad. Get it in Nairobi between Friday 25 Oct and Saturday 26 Oct, allow up to 6 additional business days for other cities.
Jumia Global
Prepayment by M-Pesa or by credit card - 15 days free returns
Pay for international delivery online and have no additional cost when you get delivered - Full refund if you do not get your package delivered
Note:
The pictures may cause the color difference problem comparing with the actual product because of the screen resolution. So please be careful about this. Everything should be based on the real products.
The product can not use when swimming or take bath. It can not drop in water for long time.
Zeblaze VIBE 3 HR - Rugged Inside Out
Explore with your "heart"
During exercise, check your real-time heart rate to learn about your progress. No matter what your goals are,it can always provide you a guide to know when to strive and when to relax.
Test a runner with the data
By using inbuilt 3D accelerometer, track your current speed and distance, allowing you to look up speed and distance even in indoors motion (such as treadmill running ).
*The data accuracy will be affected by factors such as using habit, motion range of different persons.
Develop your full potential,discover a better you
Calories calculation is based on heart rate and physical information. You can look up not only real-time heat consumption (in unit of Kcal) in training, but also the total heat consumption per training after training.
*Conducts calories calculation in sport based on weight, height, age, gender, heart rate in training, maximum heart rate (HRmax), motion strength in training.
Hard shell,stand up to the toughest environments
Backed by an international standard rating of IP67, VIBE 3 HR wrist watch has waterproof performance high up to 50-meter/164 ft, Hence, no water, dust, or dirt will soak into the smartwatch in daily life or on ourdoor trips. For travelers who often encounter heavy rain, mud, and rivers, the impervious VIBE 3 HR would definitely be your best assistant.
The 3D interface
Unlike typical sports watches, VIBE 3 HR has a totally unique 3D interface. It is not necessary to study complicated graphs or reports to understand activity performance, the watch face uses 3D animations to easily see at a glance one?s daily activities, sleep information, and more. It even has friendly inactivity reminders to help users be fitness-minded.
Motion effect function
Track your motions through the day, and indicate how the motions help to keep your health, the motion effect function allow to indicate in diagrams the average completion status of daily goals of daily, weekly, monthly motions, and provide beneficial feedback for you.
*Daily, weekly, monthly
Smart sleep monitoring record
Good sleep is essential for health and happiness. VIBE 3 HR newly launched a sleep monitoring bracelet with the function of advanced sleep analysis function, enabling good mastering of sleep, thus being a good mate in your stride toward a more balanced lifestyle.
*Sleep quality assessment is dependent on the movement of your wrist instead of heart rate measurement.
Make every second count in your life.
The device will display alert for incoming call, text message and schedule, so important information will not be missed.
Shorten charging time
There is 24 hours a day, as well you need a 24-hour standby watch. VIBE 3 HR longer standby up to 5 ~7 days, track all your activities.
Compatible with more smartphones
Automatically sync to more than 200 Android and for iPhone devices. Statistics and exercise status show on the digital display ?WearHealth?.
APP Languages?
SimplifiedChinese, English,French,Italian,German,Russian,Spanish, Portuguese, Polish, Japanese, Korean, ?
General Specification
Brand Zeblaze
Model VIBE 3 HR
Color Black, Blue, Red
Glass Corning Gorilla Glass 4
Compatible OS Android 4.4 / iOS 8.0 and above system
bluetooth Version bluetooth 4.0
APP Language English, Portuguese, Russian, Spanish, Italian, French, Dutch, Polish, Korean, Japanese
Weight 75g
Size 172*120*30mm
APP WearHealth
Type: IPS
Resolution: 240*240Size: 1.3inch
Type: IPS
Resolution: 240*240 pixelsBa ttery Ba ttery Capacity: 180mAh
Standby Time: About 168 hours
Charging Time: About 1.5 hours
Ba ttery Capacity: 180 mAh
Standby Time: About 7 days
Using time: About 5 days
Charging Time: About 2 hours
Charging Type: Magnetic charging Band Material: TPU
Length: 26mmMaterial: TPU
Length: about 230 mm
Width: about 26 mmPackage
Included:
1* Zeblaze VIBE 3 HR Smart Watch
1* User Manual(English)
1* Charging Cable
1.Display and light of shoot will affect the color of the products, pictures for reference only, subject to our available products.
2.Please download the app before usage in order to compatible perfectly with your phone.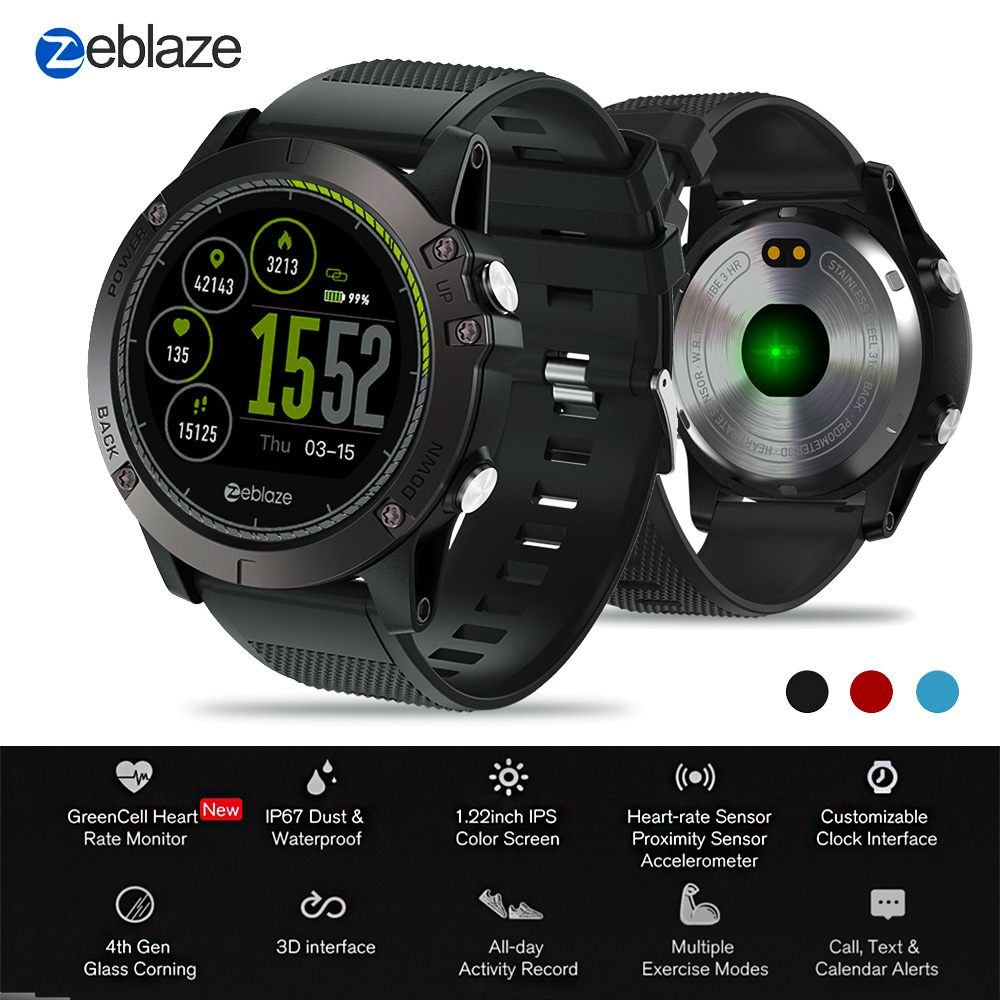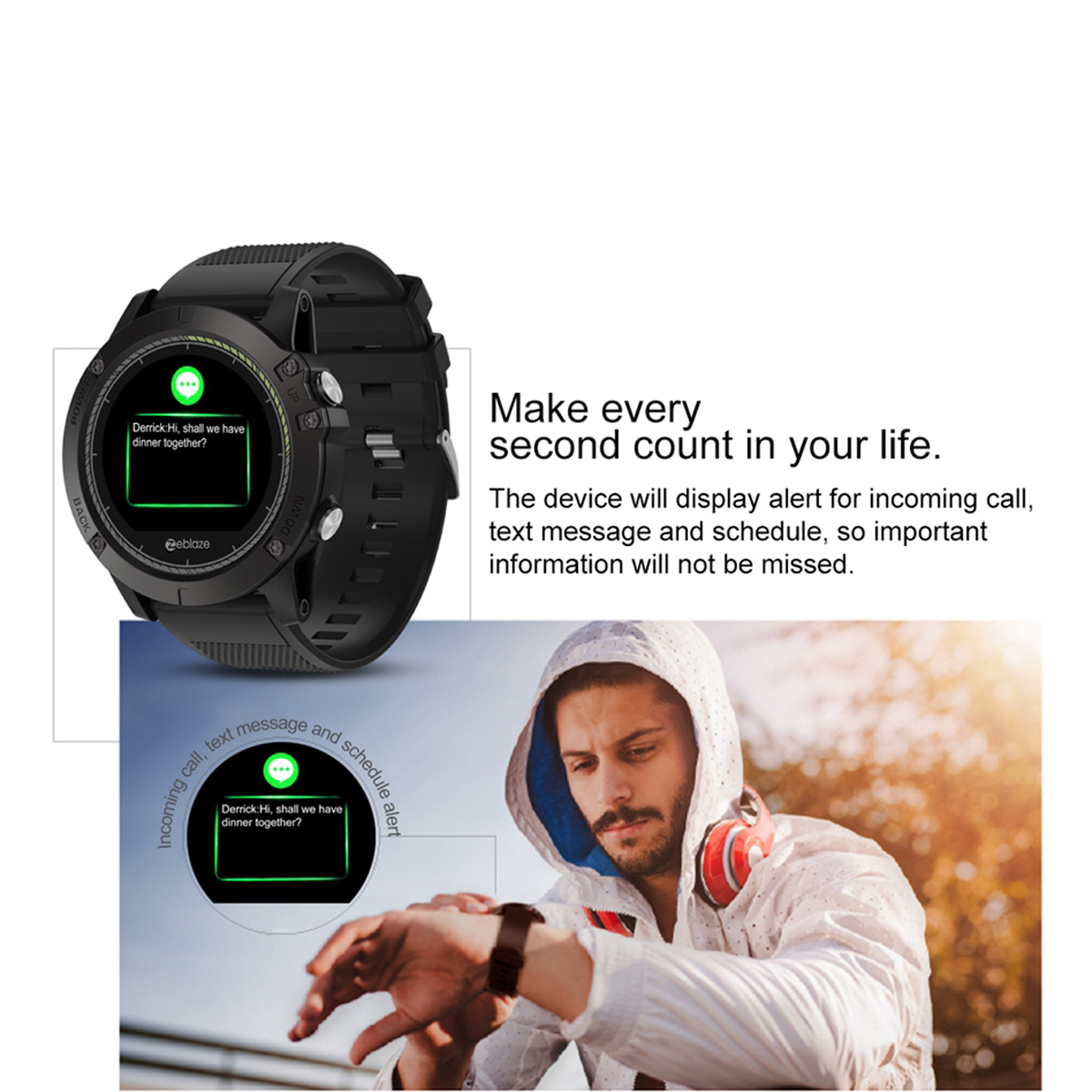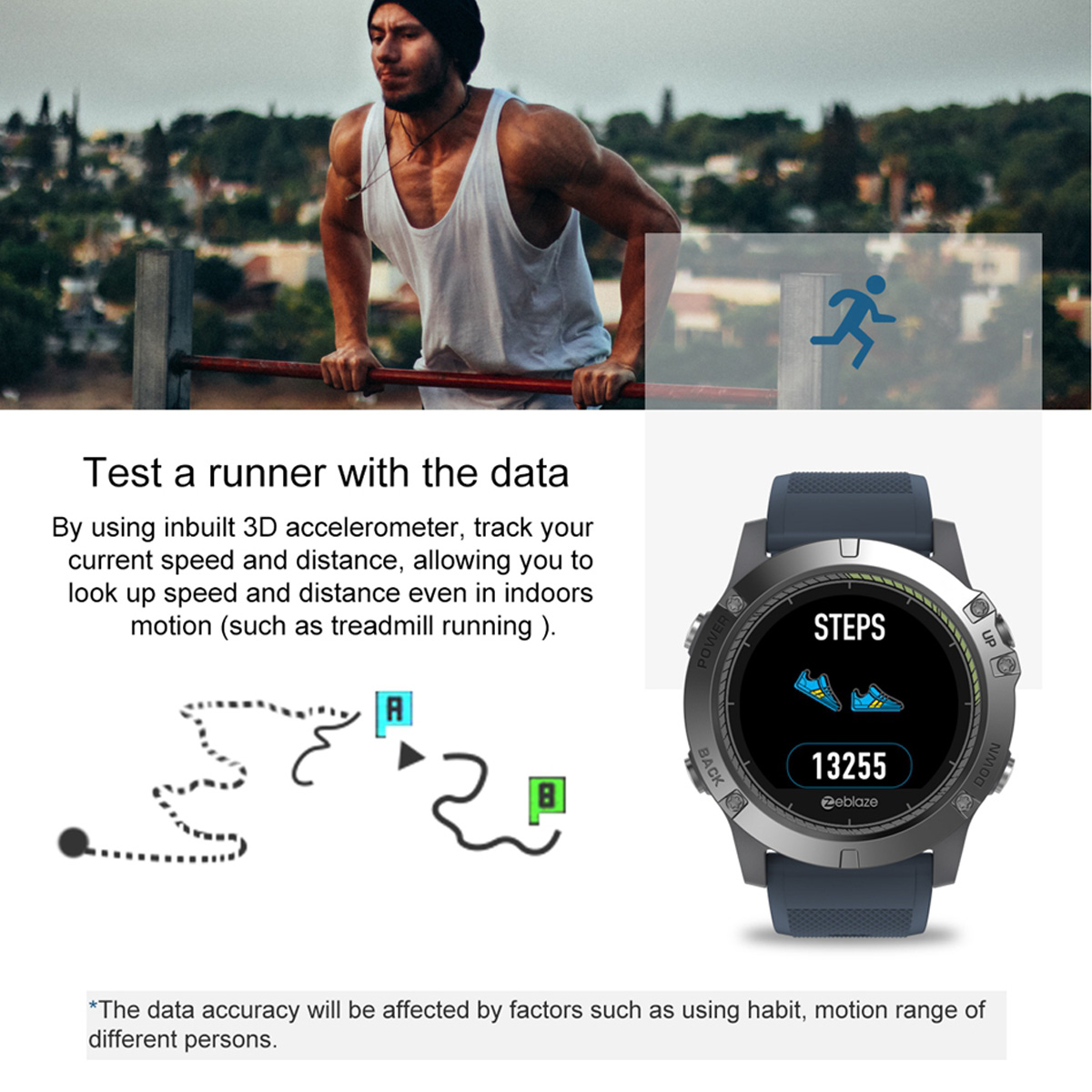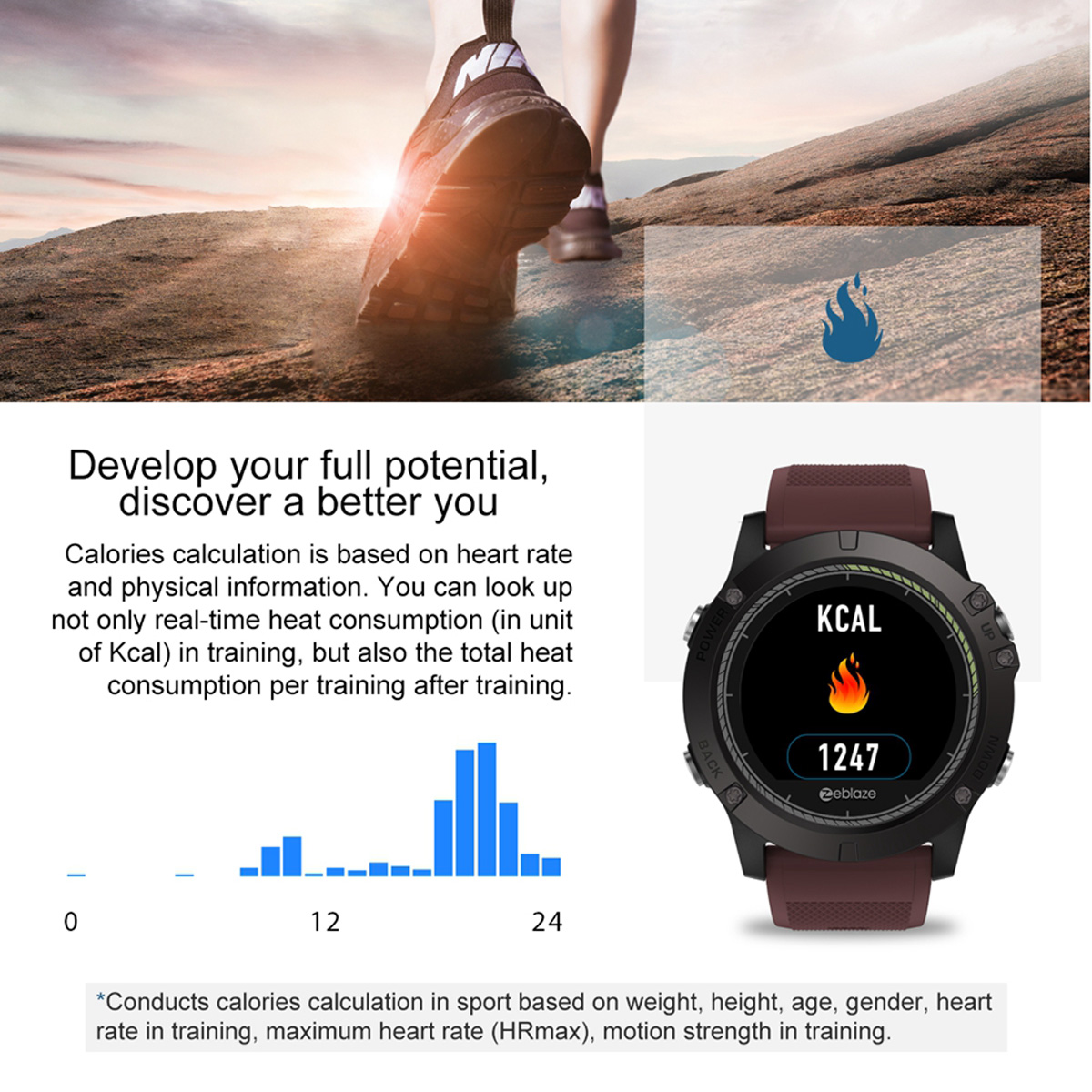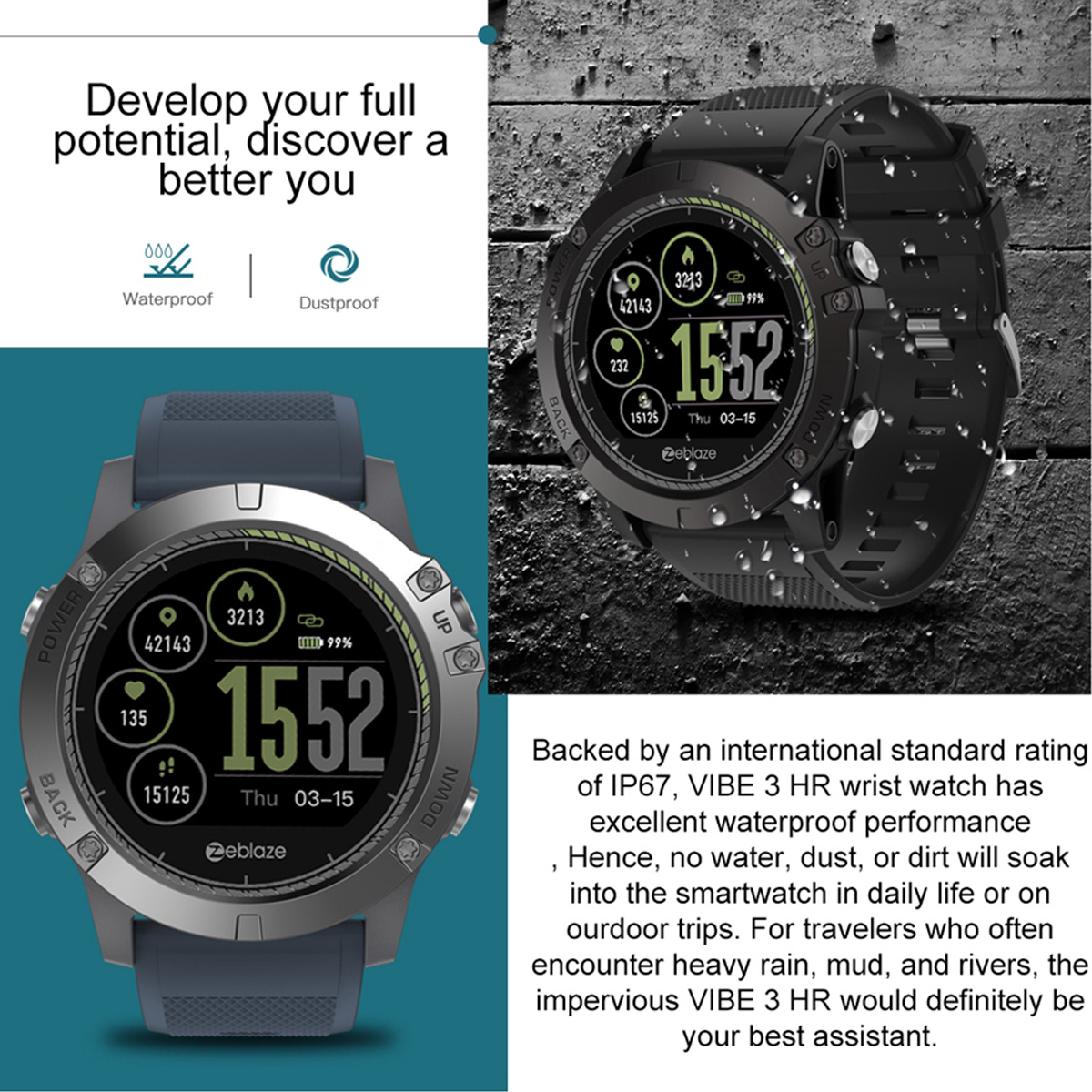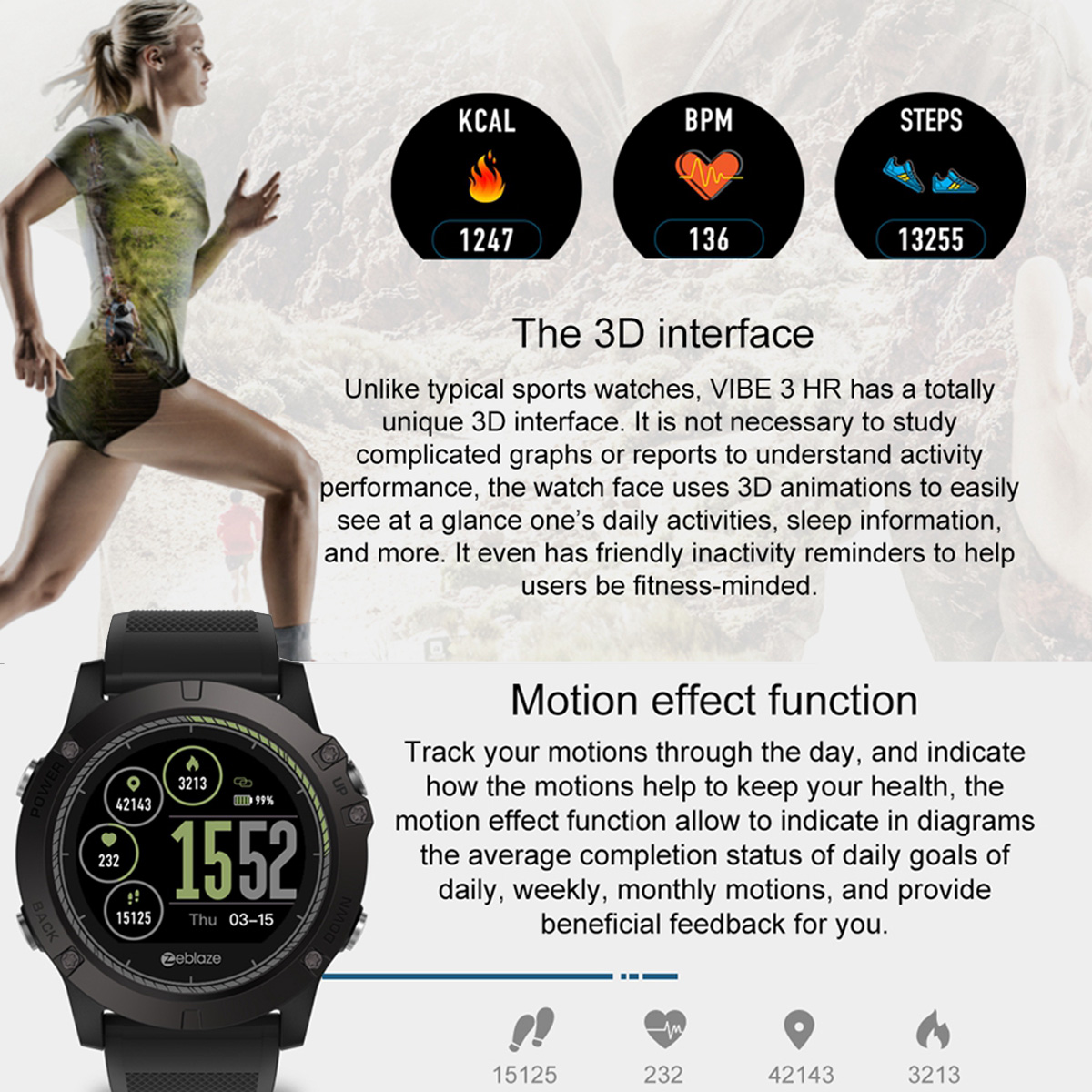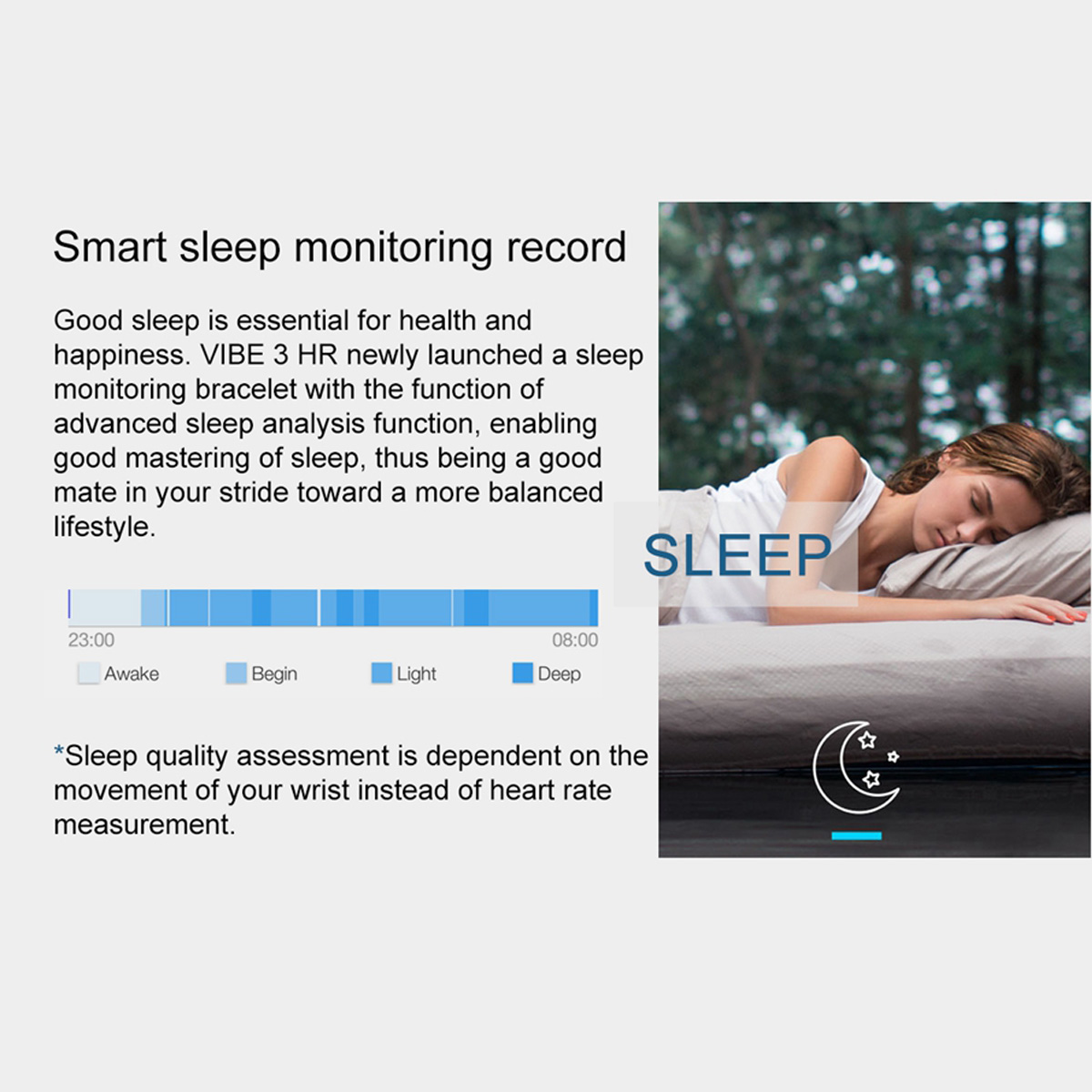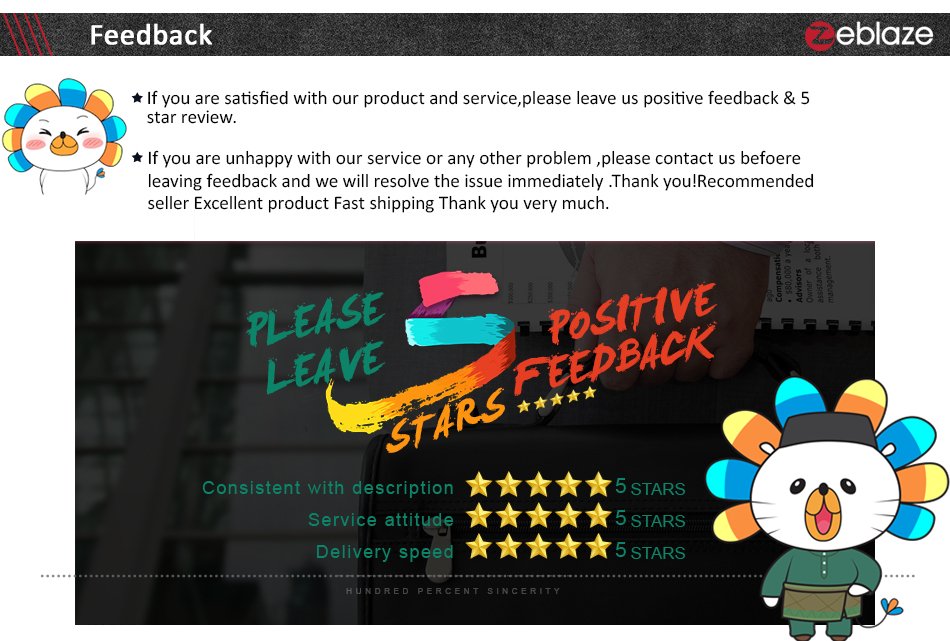 Key Features
Explore with your "heart"
Test a runner with the data
Develop your full potential,discover a better you
Hard shell,stand up to the toughest environments
The 3D interface
What's in the Box
1* Zeblaze VIBE 3 HR Smart Watch
1* User Manual(English)
1* Charging Cable
Size (L x W x H cm)
18.00x12.00x3.00
5 stars

4 stars

3 stars

2 stars

1 star
Can I return this product?
You can return this product for a refund immediately on the spot of receiving your original order. You can ONLY return the product if the product is a wrong product or damaged. You cannot cancel the product if you change your mind.
If the product is "shipped from Overseas"?

You can return this product within 15 days after receiving your original order if it has a manufacturing defect, does not turn on, counterfeit, if you have received the wrong product or due to change of mind (with seal not broken). For more information, please visit our FAQ on "Shipped from Overseas products"
How to return this product?
Kindly contact our customer care here for assistance.


What are the required conditions?
Please see below conditions for your return request to be accepted:
- product must remain sealed, except if the product is defective or damaged
- product is still in its original packaging
- product is in its original condition and unused
- product is not damaged
- product label is still attached
- product is complete

The products in your possession are your responsibility until they are picked up by our driver or you have dropped it off at a pickup Station. Any product that is not properly packed or is damaged will not be eligible for a return, so make sure they are properly taken care of prior to the return!


What are the next steps?
Once your return request is done, we will contact you to arrange retrieval of the product. You will also have the choice to deliver yourself the product to one of our pickup Stations.

Once the product retrieved, we will proceed to the examination.
- In the unlikely event that an item is returned to us in an unsuitable condition, we will send it back to you without refund.
- If examination conclusive and conditions respected, we will proceed to refund within maximum 14 business days post retrieval product