Frequently Asked Questions
How can I cancel an item / order?
Please note you may cancel one item at a time. To cancel an item on your order, it must not yet be shipped (which means that it's already on its way to your selected delivery address).
1. Log into your Jumia account.
2. Select 'Account' in the upper right hand menu
3. Select 'Orders'
4. Find the item you would like to cancel and click 'Cancel item'
5. Select the cancellation reason from the drop-down menu, and click submit
If your order is prepaid, you will receive your refund as per standard
timelines
The product I wish to cancel has already been shipped, what do I do?
Although online cancellation is not possible once a product has been packed and shipped to your selected delivery address, you may opt to reject it. This means that once our delivery agent contacts you for delivery, you can decline, or if you selected a pick up station, you may omit to pick up the package

I get an error message when I try to submit my online cancellation request. Why?
In certain cases, the option to cancel an individual item from your order may not be available. This is usually the case if you have benefited from an offer based on the total number of items ordered (example: free delivery above ascertain order value). You may need to cancel the entire order, please
contact us
for more support
steps to cancel your order
1. From the list of Orders in your Jumia Account, Click See Details in front of the order you wish to cancel.
2. Click the Cancel Item button
3. Select the right quantity and cancellation reason from the drop-down list, and submit.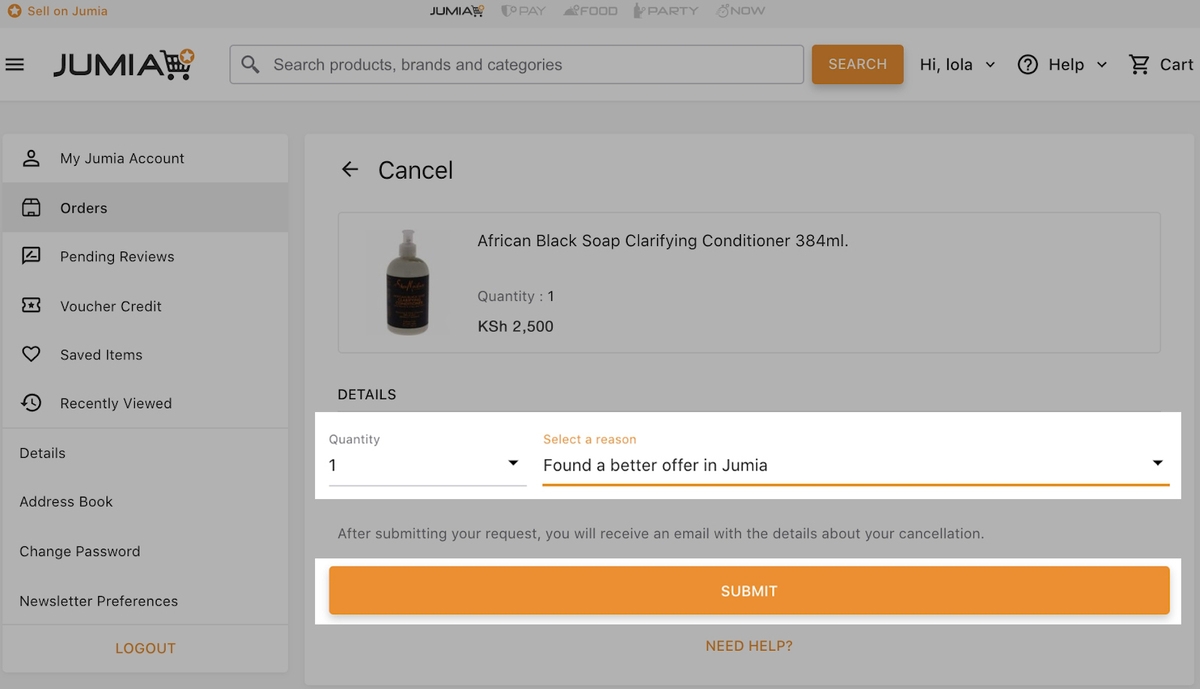 CALL 0711 011 011 TO ORDER