Your different payment options
How to select payment options during checkout
During the payment step, you can choose between "Pay on Delivery" and "Jumia Pay" from the menu on the left to either proceed with pay on delivery or pay with Jumia Pay.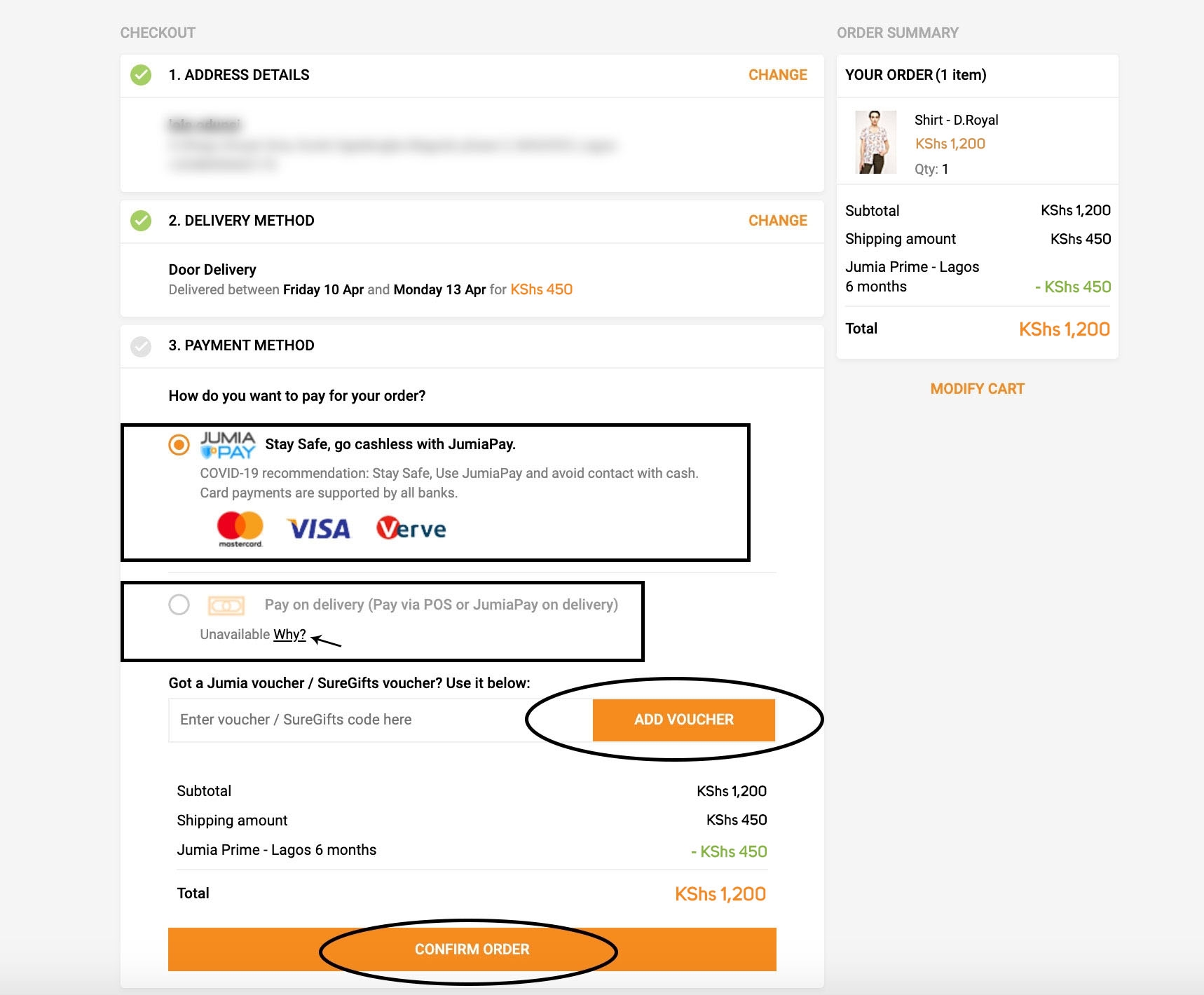 CALL 0711 011 011 TO ORDER
Most Popular Questions
How do I pay on Jumia?
You can choose from the different payment methods available on Jumia. Please find below the list of available payment methods:
You can find the payment methods during the final step of checkout in detail. Do not hesitate to contact our Customer Service for more information.
What is Cash on Delivery (CoD)?
CoD stands for Cash On Delivery. With CoD, you can pay in cash to the delivery agent upon receipt of your order.
Note:
Some products, regions or pickup stations may not be available for CoD.
Gift cards or vouchers cannot be used to make CoD payments.
How do I pay with my Debit / Credit Card?
At the end of the checkout chose Credit / Debit Card as payment options and follow the steps after confirming your purchase. Make sure that your bank activated your Credit Card for online payments. Please note that Jumia provides the utmost security on your payments. Jumia has been operating in e-commerce in Africa since 2012, with a proven record for top security around the payments processed. Click here to find out more
What should I do when I cannot see a payment option at the check out?
If no payment option is shown after you have entered your shipping information, you need to go back to your cart and make sure that you have only selected non Jumia Global Products. If it is the case and you still cannot access Cash on Delivery, it may relate to your Region or some other very specific reasons: please contact our Customer Service Contact Center at 0700 000 990, 0711 011 011 or customercare@jumia.co.ke.
How do I use a gift card?
Its simple! When you get to the payment stage while in checkout, simply enter the gift card code in the voucher box.
How can I pay for my order on Jumia app or the Jumia mobile website?
The Jumia mobile app and mobile website offers all the payment options that the Jumia website version offers. You can pay without any worries with the preferred option of your choice.
Are there any hidden charges like sales tax when I make a purchase on Jumia?
There are no hidden charges when you make a purchase on Jumia. The order amount is inclusive of all taxes and shipping fees. In case your order is delivered partially you will be required to pay only for the item that has been delivered to you. The order amount will be mentioned on the parcel and the invoice. Please note that we will never ask you to pay extra cash to the delivery.
Note: For International Payment via Credit / Debit card you may be charged a cross border fee by your issuing bank as our payment processor is based outside Kenya. For information on the exact charges please contact your issuing bank.
What steps does Jumia take to prevent card fraud?
Fraud detection and prevention are very important to us. We take all steps to ensure that transactions are genuine and that our customer's details are completely secure. Online payments are monitored continuously for suspicious activity and some transactions are verified manually if we feel that its not authorized by the owner of the card.
Why was my Credit/Debit Card declined?
IIf you experience trouble completing payment through debit/credit card, first thing to do is to make sure that your card is activated for online payments and that you have enough funds/limit to complete the transaction. Your bank can help you verify these details.
Some cards issued outside Kenya are also not supported on Jumia and may be declined. Remember that you can complete your order through Cash on Delivery and pay at your doorstep or through other available mode(s) of payment (except for some very specific regions and pickup stations, as well as for products shipped from oversea).
Can I use two methods of payment when ordering online?
Sorry, we only accept one payment method per order.
Does Jumia offer payment in installments?
Sorry, we dont offer payment in installments at this moment.
Which currencies does Jumia Kenya accept?
My order value is more than the Gift Card amount, what do I do now?
If your Gift Card value is less than the order amount, you will be asked to select an additional payment method to complete the payment.
Why can't I see the option for Pay On Delivery at checkout?
It could be that:
You have in your cart a "shipped by overseas (see the "Jumia Global" logo)" item or a digital product (ex: ticket, coupons).
Your delivery option (Location or Pickup Station) is not eligible for Pay On Delivery.
Pay on Delivery is currently disabled on your account.
Why is the Pay on Delivery disabled on my account?
Our system has flagged your account as being associated with an unusual number of cancelled / rejected orders and for this reason, the Pay on Delivery option is currently disabled on your account
How can I activate the Pay on Delivery option on my account
Pay on delivery will be activated on your account when we are able to successfully deliver your next two orders
Who do I complain to if I was flagged wrongly?
Please contact our customer care at 0700 000 990, 0711 011 011 Operating Hours: Mon-Fri, 8am-8pm; Sat-Sun, 9am-3:00pm; Public Holidays, 9am-3:00pm. or on our email customercare@jumia.co.ke and we will look into individual cases thoroughly.
What is a 3D Secure password?
The 3D Secure password is implemented by VISA and MasterCard in partnership with card issuing banks under the Verified by VISA" and Mastercard SecureCode" services.
3D secure password is an additional one-time password, that you will be asked to enter on the payments page. This password is known only to you, and is sent to you via email or text. This ensures that only you can use your card for online purchases.
What is my card number, expiration date, and CVV/security code?
When paying with Debit / Credit card on Jumia, we will ask you for your 16 digit Card number and expiry date and CVV (Card Verification Value)/Security Code. Please note that Jumia doesn't save your card information(unless you specify) or CVV information and you will be asked to enter it each time you purchase on Jumia.