Your different payment options
How to select payment options during checkout
During the payment step, you can choose between "Pay on Delivery" and "Jumia Pay" from the menu on the left to either proceed with pay on delivery or pay with Jumia Pay.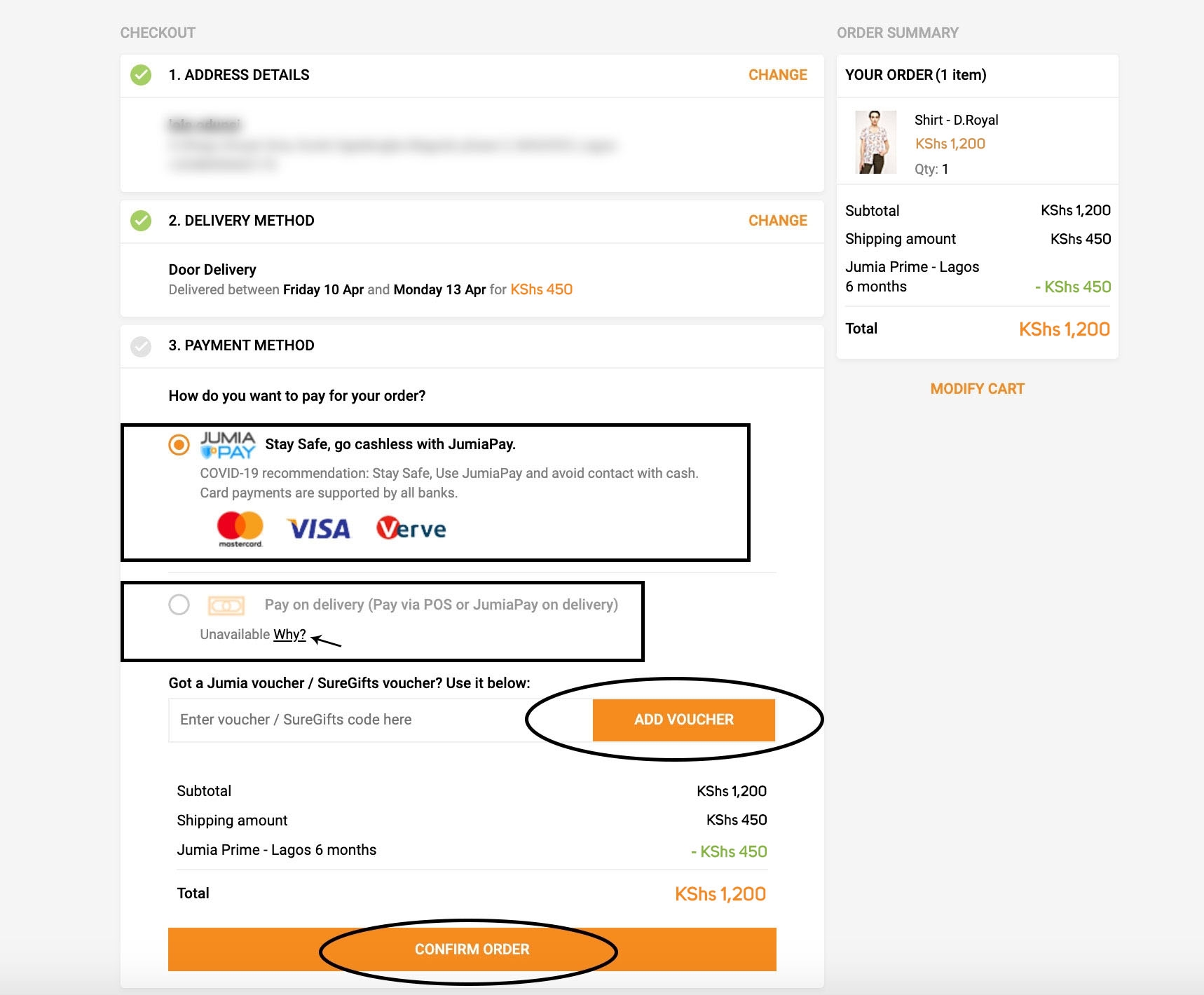 CALL 0711 011 011 TO ORDER
Most Popular Questions
I can't request to pay for my order at delivery (Pay on Delivery). Why?
The following factors may impact your access to this payment option:
1. The item you ordered is shipped from overseas, is a digital product, or an insurance item;
2. Your cart is below the minimum, or above the maximum amount allowed to enjoy payment on delivery;
3. Your delivery option (address in a distant region, select pick up station) is not eligible for Pay On Delivery;
4. Payment on delivery is not allowed on your account, based on your past delivery experience

How can I use a voucher to pay for my order or receive a discount?
To use an existing voucher:
1. Log into your Jumia account
2. Select 'Account' in the upper right hand menu
3. Select 'Vouchers'. All vouchers linked to your account are listed on this page. Alternatively, you may also have received a code via email, or obtained it via social media. Once you locate the code you wish to use, copy it
4. Paste the code in the "Do you have a voucher?" section of the checkout, and click "Apply"
5. Your order total will be instantly adjusted based on the voucher value
6. Proceed with your order by clicking "Confirm"

I get an error message when I try to use my voucher at checkout. Why?
You may get an error message in one of the following scenarios:
1. Voucher code was entered incorrectly or includes a space or special character
2. Voucher code was issued for another Jumia account. Voucher codes are linked to your account and are not transferable
3. Voucher code has already been redeemed
4. Voucher code has expired
5. Voucher code has reached the maximum number of redemptions

How long is my voucher valid for? And can it be reactivated if the validity period has been exceeded?
Voucher validity period may vary, and depending on voucher type, it may not be possible to reactivate it. To know more, visit your 'Vouchers' section under 'Account'
Is there a minimum order value to use my voucher code?
Voucher usage conditions, including minimum order values, may vary. To know more, visit your 'Vouchers' section under 'Account'
I tried to pay for my order using my card/mobile money, but it says my payment did not go through. Why?
There are many factors that may impact your payment success. Ensure you input the correct banking information (card number, expiry date, CVV), and that you have sufficient funds on your card/account. Also, network and connectivity issues with your issuing bank may lead to a payment failure. Your bank may also send you a verification code (OTP) via SMS, so please ensure you have access to your phone at the time of completing the transaction. A transaction on the payment platform is valid for a limited period of time, so please ensure you complete it before it times out.
Additionally, card payments from your bank may not be currently accepted following recent changes in Visa and Mastercard payment processing. Please refer to your issuing bank for more details. In the meantime, we recommend you opt for another payment method.
I tried to pay for my order using my card/mobile money. The funds were debited from my bank account, but it says my order did not go through. What happened, and how can I get my money back?
On rare occasions, technical issues may occur preventing us from confirming the transaction although your account may have been debited. Not to worry, you will receive a refund should this issue occur. Please contact us to request a refund back to your account.
What is Jumia store credit? And how can I use it?
Your Jumia store credit can be granted as the result of the following: 1. refunds due to cancellations/returns 2. rewards/Top-ups. Your Jumia store credit can be used across Jumia and Jumia Food, and JumiaPay platforms, although certain conditions may apply.
To view your available Jumia store credit, you can click on 'Account', then check the Jumia Store Credit section. Also, you may log in to your JumiaPay account and check your balance .
What are the benefits of using JumiaPay?
JumiaPay is a secure and easy way to pay for your Jumia orders. Additionally, it speeds up the refund process meaning you may be refunded in as little as 24 hours on your Jumia store credit